People suffer with hair loss for various reasons. We understand that hair loss can have a major impact on your life and how emotionally distressing it can be. Here at Silke Hair Loss we treat all aspects of hair loss in a warm, welcoming and friendly environment. Michelle the owner of Silke Hair invests a lot of time working closely with clients getting to know them on an individual basis. After suffering from postpartum hair loss Michelle developed a keen interest in helping others who were also experiencing hair loss.   Michelle is a trained Hair Loss Specialist who provides a kind and understanding approach to the individual needs of her clients. Silke Hair Loss is located in a private room where all our clients can relax and feel comfortable.  We are HSE Registered, which means any clients who have a medical card can get funding from the HSE towards Wigs. Contact us to arrange your free consultation. We will provide you with all the information you need. 

Silke Hair Loss provides wigs for clients who are suffering from Illness, Injury or alopecia. 
We stock a variety of wigs from different suppliers that are clients can choose from. Our clients are shown the differences between each type of wig available to them. 
Wigs differ from hair types, sizes, cap construction and colour .  We provide our clients with all the information they need to choose the right wig.
We supply all the top providers of wigs including brands like Amore, Noriko, HI-FASHION, Sentoo (Premium & Premium Plus), Gem Human Hair & Ellen Wille. 
We also supply extremely high quality Headwear for the more casual days.  They provide full head coverage with a variety of fabrics which include comfort bands that are non-slip for extra security.
We are HSE Registered, which means any clients who have a medical card can get funding from HSE towards Wigs.  At Silke Hair Loss we can do all the paperwork for you! If our clients do not have a medical card we can advise them about the other options that are available.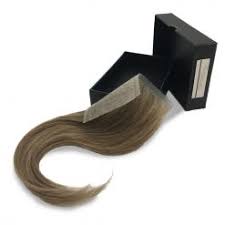 The term "hair replacement systems" is an umbrella term for everything including a clip-on hair topper, to an integrated hair topper or toupee as some people would describe them, to fully customised integrated hair. This is for the client who suffers from – severe thinning, receding hair line, variety of alopecia types, injury, scaring, and any hair loss that is not total.
This umbrella includes: T-partings, Topper, Secret Spots & Secret Crow, Customised – New Me and Top Extension.
All the above can be integrated onto the scalp and lasts 4-6 weeks, using medical grade adhesive for the safest possible application. The hair can last up to 3-4 applications if the correct homecare is used and some of the above can be changed from integrated to clip on systems if the client decides to take a break.
The client can wash their hair, style as normal, tie up and even go swimming. The integrated and it is extremely discrete. We have a wide variety of colours to choose from. The transition to hair replacement systems is exceptionally smooth.
Silke Hair Loss provide other services to accommodate our clients including hair & scalp treatments to combat scalp disorders and promote healthy hair, cutting and restyling, styling, colouring, and all other services requested.
All our products are chosen with our clients in mind, so they are ammonia free, ppd free, sulphate free & paraben free which meant kind and caring on the hair and scalp. Months of research is behind all the products we use and retail so our clients can take comfort in knowing that each product used or suggested for homecare is safe.